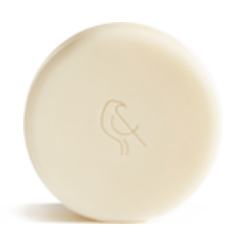 dry skin, meet our body moisturizer bar
A body moisturizer bar made of clean and simple ingredients like Cocoa Butter and Sweet Almond Oil, designed to leave your skin feeling smooth as silk without the guilt.
Vegan friendly
Cruelty-free
Zero plastic
Everyday luxury
ingredients
Cocoa Butter + Sweet Almond Oil + Jojoba Oil
Choose a scent from a selection of three custom blends of essential oils.

Love this bar!
I absolutely love this natural
beauty bar. It melts onto my skin and leaves it feeling soft and smooth. I've had people comment on my skin the days I use it. Perfect on sun kissed skin!
Must-have
I have so many great things to say about this unexpected gem of a bodybar moisturizer. It feels good...to slide the package open, to luxuriate in unwrapping the bar and then the smooth, glide over your skin. The sandalwood+jasmine scentl is a clean, mild fragrance that adds to the experience. Agree with the other reviews that it is not oily or sticky (like other bars I have tried). It also is great for travel as a non-liquid option:)
Love Crowbar
My daughter gave me my first bar at Christmas and I honestly look forward to luxuriating in its oil and scent every morning. Love love Crowbar. Thank you Katie
So indulgent!
What a lovely find - I got mine as a gift but I think I might have to treat myself if it ever runs out (lasts for ages!). The smell is divine, really natural and beautifully balanced and my skin feels quenched but not sticky. Love it!
Great Gift!
Just received my bar the other day and I'm obsessed. The packaging is really cute, it smells amazing and it's not oily. This would make a great gift, I will be ordering another for mother's day!